Dining During COVID-19
Little Rock restaurants find new ways to accommodate patrons during pandemic
Big Orange
Big Orange specializes in serving burgers, salads, and shakes, but is most known for their gourmet burgers. There are two locations in Little Rock, one in Midtown on North University Avenue, and one in West Little Rock located in the Promenade at Chenal shopping center. At the West Little Rock location, there were reserved parking spaces available for customers who choose to do curbside pickup and takeout. On particularly busy afternoons, a line forms outside of the restaurant for people waiting to be seated. 
I wanted a table outside on the patio, since the weather was nice, and was told that the wait time would be 45 minutes. After waiting, I was finally seated outside. The patio was shaded and tables were spaced out six feet apart to abide by social distancing guidelines. Customers were required to wear a face mask until they were seated at their table, and the staff wore face masks at all times. 
Big Orange's menu is filled with several different types of delicious burgers, sides, and salads. I decided to order the Avocado and Bacon Burger, which has white American cheese, Petit Jean bacon, avocado, lettuce, tomato, and mayo. For a side, I ordered sweet potato waffle fries with their signature BOB sauce. The food came out in a very timely manner, considering how busy the restaurant was. The toppings on the burger and the large, buttered bun were very tasty.  The sweet potato fries tasted very fresh and were very good with the BOB sauce.  I enjoyed this meal and would definitely order this again.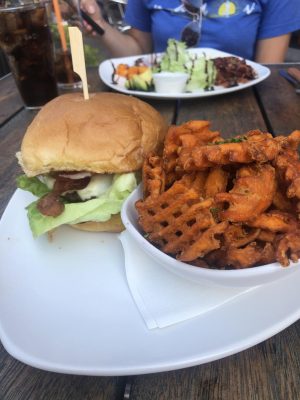 Pros
The food tasted great and did not take long to cook.

The patio was shaded and very pleasant. 

The tables outside were spaced out and followed social distancing guidelines. 
Cons 
The restaurant was very busy. 

It was very crowded inside the restaurant.

There was a 45 minute wait to be seated on the patio.
Rating
Loblolly Creamery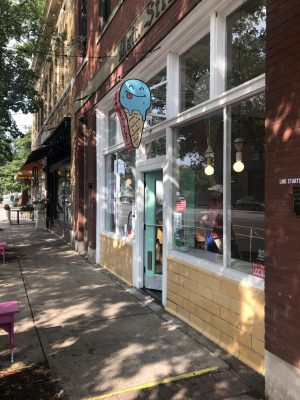 Loblolly Creamery is a unique ice cream shop located on South Main Street that sells everything from delicious ice cream to ice cream cakes, milkshakes, macaroons, and even marshmallows. Everything that Loblolly sells is made from scratch and is incredibly tasty. The staff is very friendly and knowledgeable about all of their products. The store itself is decorated with rainbow balloons, murals, and features details such as ice cream cone light fixtures. All of the colors and decorations create a very fun and family-friendly environment. 
Because of COVID-19, Loblolly has changed a few things, such as only offering takeout or curbside pickup. No one is allowed to eat inside the building, however there are several benches just outside the building that are perfect for outdoor eating. When I went, I noticed that they had a variety of very unique flavors, but were out of a few, so I went with one of my favorites, cookies and cream. This cookies and cream flavor stood out to me because of their delicious homemade cookies.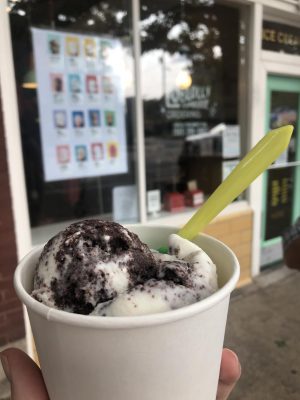 Pros
Great environment with cute decorations. 

Amazing sweet treats. 

A variety of unique ice cream flavors. 

Everything is made from scratch. 
Cons
They were out of a few flavors that I wanted to try. 

No inside seating for when the weather gets cold. 
Rating
The Root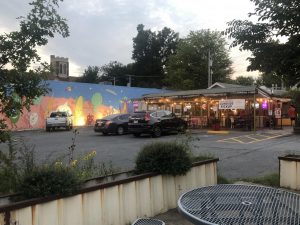 The Root Cafe is located downtown on South Main Street. They are known for their fresh ingredients from small farms and producers in Arkansas. The Root is offering outdoor dining, curbside take-out, and delivery. They have a wide variety of options from their three different menus: a daily menu, dinner menu, and breakfast menu. 
I called in my order ahead of time for takeout. I decided to order a cheeseburger that came on a local homemade buttered bun and several toppings that were locally grown. The burgers and sandwiches on the menu are served with a delicious side salad. I ordered a side of sweet potato fries that were served with a hickory chip spicy mayo.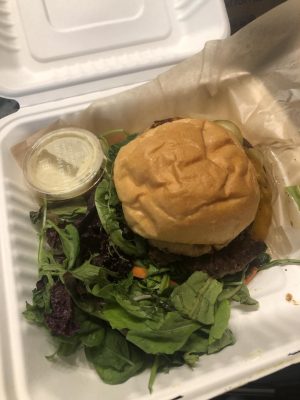 When I arrived to pick up my food, I parked in a curbside pickup designated space. I walked up to a table outside to get my food. People who were dining outside were spaced out very well, and everyone was wearing a mask, unless they were eating. The service was good and I did not have to wait for my food. Everyone followed the COVID-19 guidelines that were in place. The food tasted very good and fresh. The locally grown ingredients make this restaurant stand out. I enjoyed the overall experience and would definitely go back.
Pros
The food was excellent. 

Most of their ingredients are locally grown. 

The service was very good and quick. 

COVID-19 and social distancing guidelines were followed by everyone. 
Rating
Three Fold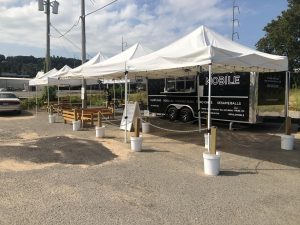 Three Fold is known for its delicious dumplings and noodles made from scratch. There are two locations, one downtown on South Main Street, and a new food truck location on Rebsamen Park Road. The food truck is a great addition because it is a fast takeout option. They offer a shaded picnic table area that is available for customers who choose to eat at the location. The seating is located outdoors and spaced out to follow social distancing guidelines. 
I enjoy going to this location because the staff is very friendly and efficient. When you pull into the parking lot, someone meets you at your car to take your order. Three Fold's menu is not overwhelming and the food is always consistent. The quality of the food is always very good. 
I ordered a pork dumpling bowl and was very pleased with what I got. I did not have to wait long for my food to be brought to my car. The dumplings tasted very good, like they always do. Their food is consistently good and you always know what to expect when ordering there. The environment is very inviting and I would recommend this restaurant for people of all ages.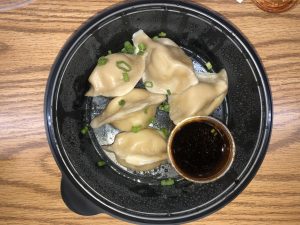 Pros
Great service. 

You get your food very quickly. 

Good environment.
Rating
Flyway Brewing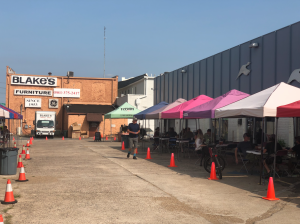 Flyway Brewing is located on Maple Street in North Little Rock. They have a very unique menu that makes them stand out from other restaurants. They are a microbrewery that is well known in Arkansas, but the environment is what makes this place so enjoyable. While they are known for their beer, they do not only cater to adults as this is a family and dog friendly restaurant. 
Flyway has transformed its restaurant to fit COVID-19 guidelines. They have turned their parking lot into a tent city, set up with several pop up tents, tables, and chairs. Their business is doing very well, while also being safe. When you arrive at the restaurant, you walk up to a tent to order your food and then seat yourself at a table. Your food is brought to you in disposable containers so that nothing is reused. 
My family ordered Bacon Wrapped Quail Sliders that came on a salted Pretzel Bun, Nashville Hot Chicken Sliders that were served on Pimento Cheese Waffles, and Fried Pickles. The food was very good and tasted different than anything I had tried before. I enjoyed both the food and the environment of this restaurant a lot. It is a good location and the outdoor seating is a great way to distance people. I would definitely recommend this restaurant and I am looking forward to going back.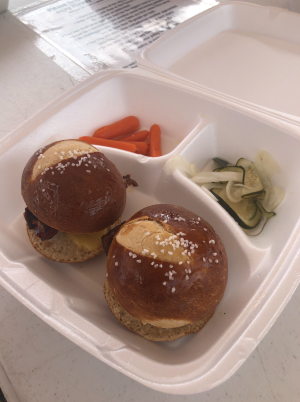 Pros
The service is great and the staff is very knowledgeable about their menu. 

The food is excellent. 

This is a family and pet friendly restaurant. 

This is a very nice environment. 

Customers are well spaced out in the outdoor dining. 
Cons
While the restaurant is doing their best to limit the contact between server and customer, they have opted for disposable plates, cups, and utensils. This decision was made to help keep staff and customers safe, however it can be wasteful. 
Rating
About the Contributor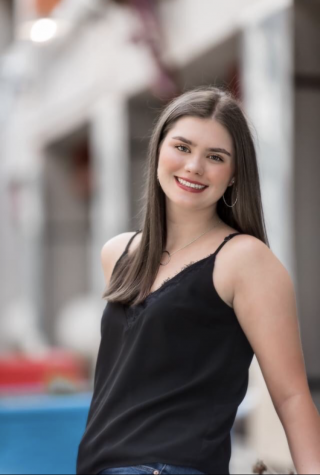 Olivia Hayden, Staff Writer
Hi! My name is Olivia and I am a senior this year. This is my first year writing for The Tiger Newspaper. I love going to concerts, spending time with friends, and playing with my dog. You can probably find me binge watching my favorite shows, Grey's Anatomy and The Office. Like one of my stories? Let me know! Email me at
[email protected]
.