New Debate Coach Enjoys Change, Finds A Challenge in Central
Debate and communications teacher Colton Gilbert taught at Hall for two years and Parkview for three before making the move to teach at Central High School. While debate has always been an important part of his life, teaching isn't what he initially planned to do.
"I originally wanted to be an attorney, and I interned at a law office, and realized I hated it, so then I taught a section of communications the following year and enjoyed it and was already working on the debate team at ASU at the time, and realized teaching high school might be fun," Gilbert said.
He enjoyed teaching at his other schools, but in the end, the decision to move to Central came down to the faculty.
"Mrs. Valdez, the debate coach here, was my high school partner, so I wanted to come and work with her. Also, Mr. Flowers and I were partners in college so I wanted to work with him again," Gilbert said.
Central's history and success as a school also played a role in Gilbert's decision to move schools.
"Central has had a historic debate team, and I thought it would be good if I could bring my talents here," Gilbert said.
Aside from his career path, debate has shaped Gilbert's life in many other facets and has affected his own personal beliefs.
"I view the world completely differently, and I'm a lot more open minded because of debate. I enjoy doing research, so you can find me at home doing debate research or reading a book," Gilbert said.
Overall, the change in schools has been positive and a good change in Gilbert's professional life.
"It's different from the last two schools I've been at, but I've been enjoying it. It's a lot more fast paced and the expectations from teachers are a lot different. If the bar's set low then I'll just coast, but I enjoy when it's set high," Gilbert said.
About the Contributor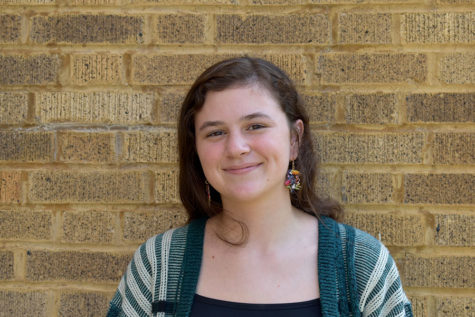 Makenna Whittington, Design Editor
Makenna Whittington is the Tiger's new design editor this year. Aside from this, Makenna enjoys being a leader in other clubs around the school like the Latin Club and the Mythology Club. In Makenna's free time she likes to paint, go hiking, and binge watch Netflix's latest television show. You can find a good mix of 70s music and 90s hip hop on any of her playlists, with a favorite band being Electric Light Orchestra. Her favorite movie changes frequently, but one that always stays near the top is
Jurassic Park
. If she's ever looking for a bite to eat, the first place she'll go is Kemuri or Zaza's. Like one of Makenna's stories? Let her know! Email her at
[email protected]
.